COMMERCIAL WIRELESS VIDEO SURVEILLANCE & MONITORING SERVICES
Hire Danner's to Monitor Your Business Security Cameras Day and Night with AI
Security is a common concern for all types of businesses, from parking lots to chemical plants. Any property that contains valuable machinery, equipment, or store inventory runs the risk of being burglarized. Using high-tech video analytics software and streaming technology, our monitoring officers remotely watch your business' surveillance cameras and call the police when a security breach is suspected or imminent.
FREE RISK ASSESSMENT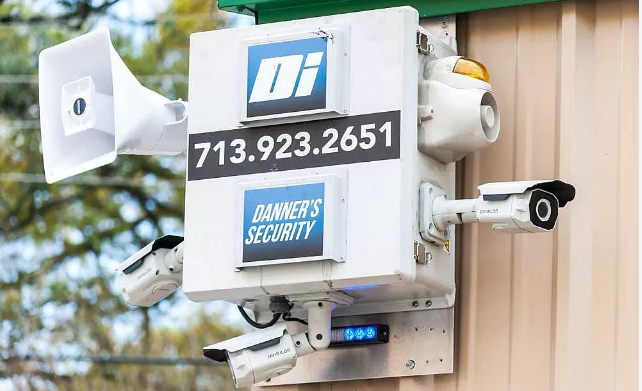 WE CAN MONITOR EXISTING CAMERAS OR INSTALL NEW SECURITY CAMERA EQUIPMENT
Already have video cameras installed but no one's watching? We can monitor your existing security cameras in most cases, or install new wireless video surveillance systems if desired or necessary. We use state-of-the-art video analytics technology to efficiently monitor your camera surveillance system live, so you don't have to watch a useless recording of it later.
With on-demand monitoring and support, you'll never have to worry about your property being unprotected.
WHEN DANNER'S SECURITY CALLS POLICE, THEY COME FAST!
Police respond to false alarm phone calls every day, turning burglar alarms seemingly unimportant. When one of our security officers make a call to police, the priority is high and the time it takes police to arrive on the scene is shortened dramatically.
Monitoring officers use video analytics technology to intensely inspect every camera on your business for any indication of foul play and alert law enforcement in a timely and professional manner if anything strange is observed.
EVENT-BASED SURVEILLANCE TECHNOLOGY
Event-based surveillance is a camera initiated alarm that sends our surveillance command center into warp speed. When Danner's video analytics software detects motion or a specific predetermined event occurs, the live video begins to stream across several super-sized monitors. Our skilled monitoring officers man their stations to remotely pinpoint suspects and update the police with moment-to-moment location, activity, and other descriptive details.
Just like Danner's security guards, all of our monitoring officers are highly trained in handling potential threats and suspicious behavior. They know when to call the authorities and exactly what information law enforcement needs to make a quick arrest. If your property is large, we'll even let the police know what entrance will bring them closest to the criminals. In addition, our video monitoring command center records a backup of the events and stores it securely so it can be used in court as evidence.
As a business owner, you will always have the option to access your fixed-mount or mobile cameras from a web-enabled computer with internet access. If anything criminal happens, documentation of the event can be made in order to provide evidence to law enforcement. Check out some of the real security video footage from our business clients.
VIEW SECURITY FOOTAGE