Retail Store and Shopping Center Security Systems
Video Monitoring and Security Systems for Retail Stores
Theft or shrinkage continues to plague the retail industry, impacting everyone from superstores to grocery stores to retail chains. In fact, Organized Retail Crime costs the retail industry approximately $30 billion each year and with these numbers continuing to grow, retail security cameras, shopping mall CCTV cameras, live monitoring, and surveillance systems have never been more critical.
Danner's always-on remote video monitoring for retail businesses allows store managers and property owners to enjoy 24/7 peace of mind knowing the business, its visitors and its assets are being monitored by a team of highly-trained security experts. Shopping mall and retail store security cameras are crucial to ensuring your business remains safe.
More cost-effective than traditional security solutions, our virtual security guard is on high alert around the clock, ready to alert the police immediately after a threat is detected.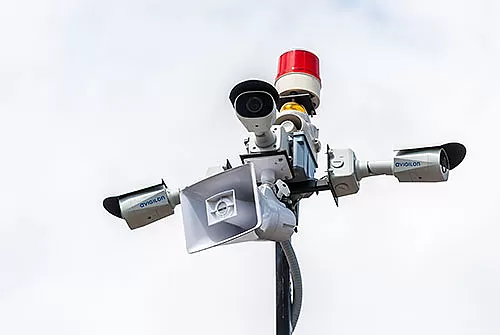 With our effective retail video security system including around-the-clock live security camera surveillance, you can rest easy knowing our virtual security guard has eyes on your retail center. Each job is unique which is why we offer custom retail security solutions including remote monitoring of existing cameras or we can install new equipment. How can Danner's Security work for you?
Work in Real-Time: Our retail security systems work in real-time so you will have the ability to catch events as they are happening and prevent potentially dangerous situations with fixed mount camera solutions.
Voice Call-Down Communication: If you spot suspicious activity on your retail security cameras, the voice call-down communication allows our operators to inform trespassers they have been spotted and authorities are on the way.
Trained Operators: While you are away and unable to monitor your retail security cameras, we provide highly trained operators to watch your cameras and notify the police if needed.
READ OUR TOP 7 REASONS TO INSTALL CAMERAS
LEARN ABOUT OUR RETAIL STORE AND SHOPPING CENTER SECURITY SERVICES
With Danner's Security in your corner, you'll get the peace of mind that comes with knowing your retail center is protected with the best security, technology, and monitoring officers available. The next time a potential threat arises at your retail shopping center, make sure someone sees it and ensures it's handled promptly. With shopping center security surveillance cameras, nothing goes unnoticed.
For a free security estimate, call us today at (713) 597-7016 or contact us online.
CONTACT US
WATCH DANNER'S SECURITY SURVEILLANCE TEAM IN ACTION
Retail businesses are vulnerable to theft and vandalism at any time of day or night. However, with our around-the-clock retail security systems, you'll have a trained security professional carefully monitoring activity at your retail store or shopping center 24 hours a day, 7 days a week. Shopping center security cameras and parking lot surveillance cameras are a necessary standard to deter potential theft and burglary.
Here's a real-time video of how Danner's detected a threat, used effective voice call-down technology to alert the trespassers, eliminating the potential theft and saving the business thousands of dollars in damages or lost inventory.
SEE MORE VIDEOS