Cellular Tower Video Surveillance
Cell towers are one of the most important physical components of the modern-day communication infrastructure. However, due to their distant or remote placements, they are subject to high rates of vandalism, theft, and hacking. Our cell tower security systems are designed with these unique needs in mind.
As one of the most experienced and knowledgeable security companies in Houston, we've identified the importance of this market and have developed commercial security systems to tackle cell tower security threats. Our commercial security systems help businesses save money by preventing theft and vandalism of both visible and hidden towers. Our experience in the commercial security systems business allows us to administer monitoring and surveillance systems that help keep our customers' cell towers secure and running.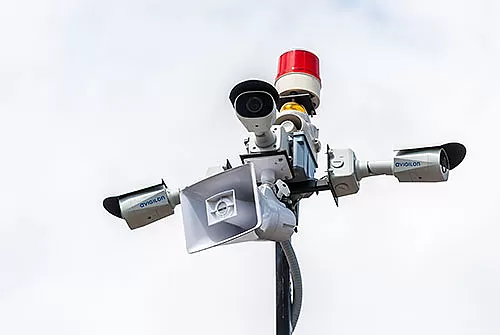 CELL TOWER SECURITY OFFERINGS
With each customer we conduct an in-depth consultation to determine the best surveillance system solutions based on the needs of each site. We identify the level of service required for different types of towers and locations and offer a range of monitoring and surveillance system options, including 24/7 video surveillance and professional guards.
Our highly-skilled team of security experts are trained to oversee our clients' sites, report suspicious activities, and log issues over time. This expertise and attention to detail sets us apart in the industry and consistently prevents expensive damages and thefts. Danner's also offers live access to your surveillance footage, so that you can monitor sites from anywhere around the world.
LEARN MORE
FORWARD-THINKING APPROACH TO SYSTEM SECURITY
Cell tower security systems have special demands. We take note of trends in both local and national theft activities and recommend adjustments to your surveillance plans in order to get ahead of possible threats. As a result of our decades of experience with a range of clients, we're able to suggest custom cell tower surveillance systems that can grow and adapt with the needs of your business.
LEARN MORE ABOUT OUR SOLUTIONS