Technology in the surveillance industry has evolved markedly in the past few years. While once tied to fixed cameras and CCTV systems, mobile surveillance equipment now allows business owners to cheaply and easily monitor their businesses and worksites with capabilities not available before. If you are searching for a security monitoring solution for your business or worksite, learn more about the benefits of mobile surveillance systems below.
Mobile Surveillance Units Are Flexible
Mobile surveillance units are completely self-contained and suitable for both urban and remote locations. Independent solar panels mean the units can be deployed nearly anywhere and your security needs are not tied to the power grid. Better yet, the self-contained nature means the units can be relocated easily and effectively as the security needs of your business evolve.
Always On Wireless Streaming
Mobile video surveillance systems have to ability to wirelessly stream live video footage either to a monitoring station or right to your smartphone or computer, allowing you to monitor footage in real-time at your convenience. In addition, the footage is also stored securely so that it can be used as evidence if an incident occurs.
Built-in Deterrent Capabilities
With mobile surveillance units, there is no need to be passive about the security of your business. Mobile surveillance units have to ability to be outfitted with blinding strobe lights, loud sirens, and the delivery of audio commands. This helps to give the illusion of an actively monitored property and will help to deter criminals if they attempt to breach your business.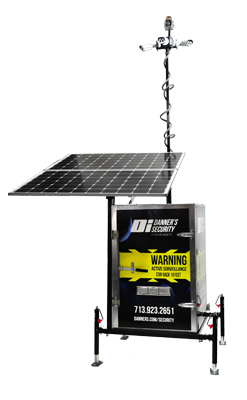 Contact Danner's About Your Security Needs
For more than 75 years Danner's has been helping to secure businesses in the greater Houston area. The trusted team at Danner's can help to evaluate your unique security needs and recommend the correct security solution for your business or property. Contact us today.